Here we have the sequel to the popular U-Boat game Crash Dive from 2014. This time you are playing as the U.S. skippers with their superior American fleet boat subs. Capable of longer ranges and equipped with more torpedoes than German boats, your mission is to find and sink all merchant and Imperial Japanese warships you come across. Crash Dive 2 features all the great playability interface features that made its predecessor so well loved.
Sub Buddy is a realistic and authentic German Attack Disc for your handheld digital device. Set up firing angles and calculate target range, distance off target track, target speed from a constant bearing, and so much more. Having it in your hands, making the calculations separately from playing the game does adds a new flavor to the simulation experience. Sub Buddy is every Wolfpack captain's best friend.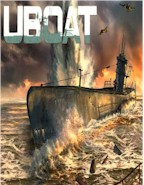 UBOAT
UBOAT is a simulator of a submarine from WWII era, yet different than all you have seen so far. It is a survival sandbox with crew management mechanics while its primary theme is life of German sailors. The boat is their home, but it can become their grave at any time. In UBOAT you control the crew in order to control the boat. You look after their physical and mental health, because if the sailors are hungry, tired and their spirit is low, there's no chance of winning even a skirmish.
Wolfpack
Wolfpack is a realistic, first person, co-op U-boat game where one or multiple crews of players man the stations of a highly detailed German type VII U-boat during the Second World War. The crew will encounter large randomized convoys of merchants escorted by destroyers, sloops, and corvettes. Their objective is to intercept and sink enemy ships and escape undetected. Each U-boat has up to five players: The captain, the helmsman, the dive officer, the radio man, and the navigator. Each player mans a station in the U-boat, and the crew will need to cooperate in order to succeed in their mission. Unlike other submarine simulators, Wolfpack is designed for players to procedurally manage the sub through direct, manual interaction with valves, levers, & instruments. Includes solo player mode for single player action.
Das Boot VR: Demise
Immerse yourself as the captain and steer the fully interactive WWII U-boat silently through hostile waters. Use the periscope to search for your targets and enemy warships. Dive deeper and switch to silent running when allied ships are closing in. Relive the most intense moment of the legendary 'Das Boot' and experience the tension of naval warfare under the sea in this 8- 10 minute single-player experience.
Silent Depth
Mobile platforms such as iOS are still too limited to support complex submarine sims such as Silent Hunter 5 or Cold Waters but some offerings for the iPad, Android, & Kindle Fire have some games which are entertaining and almost realistic. Codeknitters has attempted a realistic tour of duty in the Pacific during World War II in a Gato/Balao class sub with Silent Depth. If you remember Silent Service II and the original Silent Hunter, you will be interested in Silent Depth. Rig for dive and get your game on.
Cold Waters
Cold Waters brings a new wave with an old flavor to a genre that has been dormant for too long and this is a moment all subsim enthusiasts can celebrate. Cold Waters arrives with real time action all the way and that makes a real difference in the gameplay. Killerfish have spent nearly two years of time and money creating their latest game, billing it as the spiritual successor to Red Storm Rising, a game that many subsim vets remember fondly. And yes, the design stays true to its roots but delivers a lot more visual appeal that its 1988 predecessor.
HMS MARULKEN Preview
The standout feature of this sim is: it is intended as a co-op game where four players will work as a crew to fight the sub against the German Navy. Here in the Swedish navy, you have your role, and you do it hands-on. You move about the boat is an SH5 fashion. You will manipulate the levers, switches, and knobs right in the sub. Unlike everything before, this time you have to rely on other players to succeed.
UBOOT - Dev Team Interview
Here comes a subsim unlike anything before it--UBOOT. Blending novel crew management features with eye-pleasing graphics and stimulating gameplay, UBOOT will present the player with new opportunities to fight the Battle of the Atlantic. UBOOT is the creation of Polish dev team Deep Water Studio, and is backed by PlayWay. With a Kickstarter page that quickly reached its goal of $15,500+ though the pledges of over 800 backers, it looks like the game is on track for success. We pulled into port and invited the team aboard for a few questions.
Navy Field 2
Navy Field 2, a combined World War I and World War II naval combat simulation from the Korean company SDEnterNet, has been released through the digital game store, Steam. Playable through both Steam and a browser window, this is one the first MMO's (massive multiplayer online) in the naval simulation genre that appears to have a great balance between commercial success and entertainment. Players can choose from the US and British navies on the Allied side, and the Imperial Japanese Navy and Kriegsmarine on the Axis side.
Ironclads II
Iroclads II, by Totem Games, is a naval warfare simulation set in the American Civil War. The game simulates a campaign for dominance of the Gulf of Mexico and is playable from either the Union or Confederate side. The strategic layer is used to set up battles in the tactical layer, and resembles a board game. The tactical layer is where you take command of your warships in battle. The game uses warships classes representative of what was in use at the time, including small coastal gunboats, ocean-going steamers, and of course, early ironclads.
Atlantic Fleet
Atlantic Fleet is the newest mobile title by KillerFish Games and features a dynamic campaign spanning from 1939 to the end of the war. The Battle of Atlantic mode may be the most appealing feature for many users. It puts you in command of Kriegsmarine or Royal Navy tasked with protection or destruction of convoys vital to United Kingdom's war effort and survival. Convoy routes and weather change in time and are depicted on Atlantic Ocean's map. This and several other improvements over its predecessor - Pacific Fleet - contributed to relaxing yet complex entertainment.
Crash Dive
Made for PC, Android, Mac iOS, and Amazon Kindle Fire, Crash Dive is a U-boat sim that features gameplay like Aces of the Deep, with much better graphics. In fact, Crash Dive so consistently brought back memories of Aces of the Deep, that I could not help but compare and refer to the older classic throughout this review. This is an excellent game that offers engaging U-boat gameplay built on a visually appealing base with solid AI and first-rate controls and satisfies the yearning for a good subsim and reestablishes the allure of North Atlantic convoy combat in a way that does Aces of the Deep, Silent Service, and Grey Wolf proud.
Battle Fleet 2
Since Silent Hunter 5, iPads and iPhone, Kindles, and Android phones have become the platform de jour for naval games and subsims. Surely this can't be the demise of PC based subsims, can it? Well, maybe, but there is at least one new title that you can still play using a mouse and keyboard as God intended: Battle Fleet 2. Available on nearly every platform--iPad, Mac, Android and yes, Windows PC, Battle Fleet 2 is a more refined and graphically superior upgrade that should satisfy newbies to the battleship genre and Fighting Steel old-timers alike.
Pacific Fleet
Pacific Fleet is mission based strategy/sim game. It doesn't crowd Silent Hunter or Dangerous Waters out of the simulation arena, but it really has too much detail and logic to be dismissed as an arcade game. You play as the US Navy or Imperial Japanese Navy in Pacific WWII naval engagements. Shortly after Pacific Fleet was released for Android phones, I became close friends with the game. I've found numerous opportunities to play it several times a day when I would have otherwise been forced to make conversation with people. Pacific Fleet is a game that is so easy to like.
Near Impact
With the nature of modern submarine warfare being what it is, it's not uncommon for a sub to disappear at sea on patrol for months. No word, no trace. Submarine simulation game development has a lot in common with this characteristic. Nothing for years, then, from the depths -- news. Sonalysts are putting the finishing touches on a new game engine. Dubbed "Simulation Engine II" (SE II), it will provide a base for new sims with modern graphics, extensive environmental factors, and greater elements of random placement, inclusion and triggers.
Battle Fleet
BattleFleet is a pretty interesting composite of a game. It is one of those rare birds that is developed for the Mac and iPad. It mixes a top-down turn-based strategy game with naval vessels and with a bit of Battlestations: Midway mixed in between. The idea and premise is a very good one, one that came out well, but there is always room for improvement. If there is a successor to this game there are plenty of things that could be added to the core gameplay to make this an extremely in-depth and time consuming experience. To me, what it does manage to do very well, is be a very nice time waster.
Silent Hunter 5
A truly great subsim transcends computer game mechanics to stimulate the imagination the way books like Iron Coffins and U977, and films like Das Boot did. Writing about Silent Hunter 5 is a challenge. There's no way to sugarcoat it, the game has lots of issues and shortcomings, but it does some things well and it's a lot more fun to play it than write about it. One thing it does magnificently is give the player a very realistic sense of being on a U-boat. Just the simple act of opening the bridge hatch, climbing down the ladder into the conning tower, ordering dive, and raising the scope is one of the quiet strengths of Silent Hunter 5 that should not be overlooked.
PT Boats: Knights of the Sea
PT Boats features some 12 or so PT boats to control, from the Elco, Komsomolets, Vosper and sub-like G5. Each boat is represented well with different guns and controls, and the game physics lend an authentic feel to the way they handle, turn, and drift. You can play as either side, so in a particular mission you may be the Germans attacking a Russian supply convoy; change sides to be the Russians protecting the supply convoy. You can play as British, German, or Russians, and some missions feature all three sides.
Battlestations: Pacific
In the Battlestations franchise, the gameplay is a hybrid of real-time strategy and something approaching simulation. Players can use the game's tactical map to command squadrons and flotillas, or even individual planes and ships, or they can jump directly into pretty much any unit in the game and come to terms with the enemy personally. Sounds cool, right? It is, but there is something very important to remember before purchasing a game from the Battlestations line; It is not a simulation and it is not historically accurate, though it is mad fun.
Jutland
The campaign aspect of Jutland has been done quite well and is without a doubt the core of the game. U-boats and Zeppelins are at your disposal to assist in scouting out the enemy if you prefer to command the German task forces or divisions. There is a lot more to this game than simply managing battleships. Plan your task forces and make them ready to put to sea. Have the ships lay mines or sortie to the enemy's port. Beware, there are coastal batteries and are quite accurate when they get a bead on your ships. The player must be aware of fuel capacity and distance needing to be covered.

Shells of Fury
In gaming terms WWI is a bit of a black hole. It has very limited street cred, being overshadowed by its bigger more mainstream brother, World War 2. Shells of Fury (SOF) has to be one of the strangest subsims released in quite a while. It takes on a neglected era (WWI), looks very retro, and appears to have been almost dumped on the market with no real pretensions. Having said all of that I believe it's a little gem that'll pay back its rather modest price with a lot of replay value and in a very fresh setting.
Silent Hunter 4: Wolves of the Pacific
The game itself has been touted by Ubisoft as the subsim with "Hollywood blockbuster experience" in an attempt to appeal to action game buyers and non-simulation players. While this is a smart goal (ensures greater sales, brings new subsim skippers into the fold), it is only laudable by Subsim if it does not come at the expense of historical and simulation accuracy. You can breathe a sigh of relief, Silent Hunter 4 is as hardcore simulation as they come. In fact, many elements are taken a step further than SH3. Silent Hunter 4 is a must-have for intrepid subsim skippers everywhere.
Battlestations: Midway
A key feature of Battlestations: Midway is the ability to play as a first person shooter, where you are onboard a battleship or plane, directly controlling the unit; and the ability to direct the entire fleet from a map. At any time during the game the player may hit the TAB key from the map and assume first person control of the unit he has selected. The most notable thing is the other units will carry on their orders with competent AI. It is a standout feature that works very smoothly and adds a great deal to the appeal of the game.
Pacific Storm
There are two types of campaign modes, one that starts pre-1941 and the other starts at the beginning of the war. In the pre-war mode, you have until late 1941 to have your country ready for war. One vital aspect to the game is to maintain your supply lines. As in the real world, your ships only have a limited sailing distance, so you need to build refueling points (and defend them). Building a base is more than just capturing a point on the map--you need to build barracks, warehouses, fuel storage facilities, base defenses, and an airfield.
The Legend of Jack Sparrow
The quest begins as Sparrow and Turner search for a rare artifact. Their adventures cross some of the storylines from the original movie with new locales in villages, forts, caves, mines, and jungles. Each episode involves a lot of swordfighting with a steady flood of AI ghouls, enemy pirates, incontinent Spaniards, and redcoats. But other than some cutscenes and a few swordfights on the deck, no there are sailing ships in this game, savvy?
Tokyo Express
Victory Games' 1988 Classic Revisited! Tokyo Express is a dedicated solitary player experience that additionally offers rules for two-player-games. And Tokyo Express presents the lonely player a challenging artificial opponent that keeps surprising him in an elegant way that is far from the unwieldy text paragraph books and dozens of paragraph-selection-slider-cards that were to be found for example in many solitary games.
Silent War
To call Silent War a game is akin to calling the priesthood a hobby. Prepare to undergo some serious indoctrination--this game really tries to replicate every aspect of the entire war. There are provisions for aircraft attacks, surface gun attacks, repairs, circular running torpedoes, special missions, Ultra intercepts, wolfpacks... just about any situation you can imagine that is historically based.
Warship Gunner 2
Successful mission and objective completion is key to upgrading your ships, adding more ships, and bolstering your crew. There's no denying that the game developers put a lot of thought into the numerous systems and upgrades. The missions get harder as you go along so you definitely want to get the best gear to stay in synch. Ok, so when the lighting bolt generators and laser cannons come along, it does get a bit weird. At least it's entertaining, ripping through whole fleets of enemy vessels with unimaginable firepower.
Navy Field
The "fireworks" really start flying with a lot of planes and ships around, and as the sprites are rendered fairly smoothly, the big engagements can really look good -- with massive splashes of battleship guns ranging in, light and heavy flak shooting in all directions, fans of torpedo trails launched by cruisers in the water and burning planes falling through the sky. I'm sure most players will be at least a little impressed when they first see a big battle!
Salvo!
Sailing, gunnery and boarding depends on a very innovative aspect of Salvo!: crew management. Right-clicking on a ship and selecting the crew icon opens a display showing the six positions crews are assigned to: idlers, both batteries, sailing, damage control and boarding party. The display also shows the level that each position is manned. Players must decide how many crew to allocate to what positions during which phase.
As soon as the game starts every old Ace of the Deep vet will notice one huge enhancement right away: Silent Hunter III has a 3D control room you can move about in, a bridge you can man, and a fully interactive 3D crew. No more "ghost subs", no more 2D pictures of a control room that require imagination to create the experience you are aboard a sub. This is better on a bicycle-to-space shuttle improvement scale.
Battlefield 2
The most significant innovations BF2 brings to the series are the Team Commander mode and Squads. Forming a squad increase objective awareness and cooperation. The Squad leader serves as a mobile spawn point, greatly increasing the ability for the squad to pour it on by quick and close respawning. At the outset of a battle, a player can apply for the Commander role for his side. The Commander has real-time map info that can be zoomed down to see individual players. It's like being God, or a CIA operative somewhere covert.
Battleship Chess
Battleship Chess, like chess, even though the rules are fairly straight-forward, has a great deal of depth. How the player deploys his fleet, as in real-life, is often crucial to the outcome of the battle. For example, the would-be admiral should always seek to keep his ships together throughout the battle. Why? When friendly warships are adjacent to each other, all neighboring vessels may fire their guns along with the ship that had just moved.
Dangerous Waters
This game boasts seven playable platforms that include air, surface, and subsurface units! The familiar units from Sub Command return: the SSN-21 Seawolf class, the 688i Los Angeles class, and the Russian Akula class. The new platforms include the Oliver Hazard Perry class frigate, the P-3 maritime air patrol craft, and the MH-60 multi-mission helicopter. The graphics of each have really improved since Sub Command. The sub models have been upgraded and the hull curves are dramatically smoother.
Pirates!
When Pirates! debuted on the Commodore 64 in 1987, it became one of the most critically acclaimed games of all time and was the benchmark for swashbuckling adventure. It was so good that 17 years later people were still hanging on to their old C64's or using various software emulators just to play the original game. For years fans have asked--even begged--for a new update to this true gaming classic. Well, it's the year 2004 and Sid Meier's Pirates! (the remake) has finally set sail.
Pacific Aces
Pacific Aces is a total conversion from WWII U-boats in the Atlantic to US Silent Service in the Pacific. Each sub class has its own diving and sailing characteristics and weapons loadouts. To top it off, the PA conversion includes the rain and water mod and the Pacific Aces Campaign Generator--the closest thing to a dynamic campaign since Aces of the Deep!

Jane's 688(I)
Thumbs up. Way up. Strap-it-on-a-Tomahawk, plot-five-waypoints, and send it waaay up! 688(I) Hunter/Killer is a triumph, a powerful blend of realism and gameplay with enough visual concessions to keep it stimulating. If you want to immerse yourself in a billion-dollar, state-of-the-art nuclear attack submarine, and experience the tension, drama, and exhilaration of relentless world-in-the-balance naval warfare; this subsim is your ticket.
Silent Hunter lets you walk in the shoes of such famous American sub skippers as Dudley "Mushmouth" Morton, Richard O'Kane, Sam Dealey, Bud Gruner, Freddie Warder, and George Grider, to name only a scant few. You wear the skipper's cap and command an American submarine in search of ships of the Japanese Empire. Like the successful Aces of the Deep series, Silent Hunter takes the familiar elements of submarine warfare and brings you even closer to the experience.
Command Aces of the Deep was the first really good submarine simulation I ever came across. You have the whole Atlantic, North Sea, and Gulf of Mexico to hunt. It forced a paradigm shift of my ratings of all previous subsims. Command Aces was leagues ahead of the competition at the time of its release, holds its ground years later, and is a shining example of a subsim done right.
Seawolf involves a "world crisis" scenario where you are ordered to hunt and kill Russian boomers, Alfas, Oscars, frigates, landing craft, and whatever else they put in your way. You command a Seawolf class nuclear submarine, capable of astonishing underwater speeds. You utilize a waterfall display to isolate and classify the surrounding vessels. It always seems like the ocean is well-stocked with porpoises and whales. But somewhere, you can bet, there's an Akula sub looking for you as well.
The graphics in Silent Service II are pre-Pentium, but the ship renderings aren't too bad, to be honest. An aircraft carrier looks, by God, like an aircraft carrier. Same with the tankers and cruisers. The enemy AI is moderate, depending on what skill level you are playing at. Going deep and running away from the escorts is not very difficult, but they get you occasionally.