What do you get when you cross a love for computers, submarines, and journalism? A submarine simulation website that strives to be the best and most informative on the web. On Jan. 26, 1997 one bored naval enthusiast collected a batch of online game reviews he had written for a newsgroup and some pictures of the Galveston WWII memorial submarine USS Cavalla, opened Notepad and slapped together some crude HTML, and the Deep Domain was launched. The game reviews were bunched as Neal's Subsim Reviews, which eventually became Subsim.com. Now, 20+ years later, Subsim can rightfully claim to be the biggest and most visited sub and naval game website online. Thanks. You made it happen by taking a few moments to read our reviews, post in the forums, and add our URL to your favorites.

The History of Subsim
1965 -- 1970 - As a boy, Neal Stevens enjoyed reading about submarines and U-boats. His Uncle Frank had been at Pearl Harbor during the attack and served throughout the war in the Pacific on a destroyer. Neal's favorite pre-computer games were Stratego, chess, Battleship, and Risk.

The Submarine Game
1972

1970 - Neal begins making alternative Battleship scenarios. Some center around one player with the two subs and the other player controls all the surface ships. The sub player is allowed to move during his turn. The surface player gets 3 shots per ship. From this evolves "The Submarine Game", an unwieldy and complex submarine battle wargame he created using two 4x2 cardboard playing surfaces. After weeks of work, the Submarine Game gets very little playing time--no one can learn all the rules!

1971 - Neal and his father travel to nearby Galveston to tour the newly opened Seawolf Park. It will be years later on a subsequent visit that Neal learns the WWII submarine there is named the Cavalla, not the Seawolf.

1982 - Das Boot is released. It was nominated for six Academy Awards

1984 - A friend's TRS-80 personal computer makes an impact on Neal's life. They begin writing BASIC programs and playing text-based adventure games. Neal wonders when a submarine simulator will be made for a computer. With pictures, of course.

1987 - Blue Max and Silent Service are the first simulations Neal tries out.

Dec 1995 - After upgrading to a Pentium 120, Neal began writing reviews for his submarine sims and sending them to various fan websites. For a time, four of his reviews were posted; Wolfpack, Silent Service II, SSN-21 Seawolf, and Aces of the Deep.

Jan. 26, 1997

Jan. 26, 1997 - Neal creates his first website, The Deep Domain, a collection of submarine related pages, including the USS Cavalla webpage. Neal starts getting e-mails from other subsim devotees. Among them is Jim Atkins who runs the well-designed Silent Hunter Home Page. As a new section of the Deep Domain, Neal's SUBSIM Reviews debuts on the Internet. The entire website consisted of six subsim reviews and an e-mail link. A few weeks later the first of what would be thousands of e-mails trickled in. It was a question about getting Wolfpack to run on a 486. First letter to the new website was from longtime reader Josi Manuel Batista who would later write of his experience aboard a Portuguese submarine:

SUBSIM Review - Jan 1997

Jan, 1997
First of all congratulations for your idea and your page. For me that i'm addicted to subsims this is the heaven page.
I agree with you that Silent Hunter is for the moment the best subsim with excelent graphics. It is better than Aces of the Deep (I don't have Command: Aces of the Deep to have an opinion) because of the old graphics. The others games is just a good try! (excuse my english).
Josi Manuel Batista


Feb 1997 - The website expands to nine reviews. Ron Martini's website gives SUBSIM Review their first link exchange. Eventually, Ron Martini's Submarine Bookstore will be SSR's longest running sponsor.

April 28, 1997 - First known mention on the use-net of Subsim Review.

From: CAP - view profile Date: Mon, Apr 28 1997 12:00 am Email: CAP <c...@clark.net> Groups: comp.sys.ibm.pc.games.naval, alt.games.command-n-conq.red-alert, alt.games.command.and.conquer,
Topic in alt.games.command-n-conq.red-alert

Reply to Author | Forward | Print | Individual Message | Show original | Report Abuse | Find messages by this author

On the subject of game reviews, here are a few sites I've found with good stuff in them. And to answer the question of Jane's 688i Hunter/Killer... It's in there.

http://www.pcme.com/ http://www.cdmag.com/ http://www.ogr.com/

688i HUNTER/KILLER http://www.cdmag.com/simulation_vault/688_preview/article.html

SUBSIM REVIEWS http://www.computron.net/users/neal/SImreview5.HTML

c...@clark.net CAP on CoolTalk/NetMeeting MERC on Kali/ICQ

Aug 1997 - Neal pens his Jane's 688(I) review and agrees to share it with his friend Frank "Crimson" Morrisette, founder and visionary of SimHQ. Crimson is joined a few months later by Eric Berns and John Miller. SimHQ was on their way to achieving the best respected all-purpose sim website on the net. The 688(I) review remains one of the oldest in SimHQ's catelog. Other news: Neal heard from his sources that a sequel was in the works for Silent Hunter. Expected release date-- Summer 1998. One could hardly wait.

Jan 1998 - Neal's SUBSIM Review has been on the web for a year. A new feature is added; Reader's Comments, consisting of a sampling of the mail the website has attracted. Attempts to get on new product beta lists are met with silence. Yours truly, Jason Dorren, is talked into a game of Jane's 688(I) one night by Neal and a new passion is born. I begin helping with some news gathering duties.

March 1998 - Neal's SUBSIM Review moves to a hosting service in Connecticut. With 25 MBs of disk space and 1 whopping GB of file transfer available, it looks like it will be a while before SUBSIM Review will use it all up.

SUBSIM Review - Aug 1998

June 1998 - Following the example of the Silent Hunter Home Page, Neal's SUBSIM Reviews website is redesigned using frames for easier navigation. New sections include the SUBSIM Updates and a couple articles. The review index has grown to thirteen.

Aug 1998 - SUBSIM Review gets their first interview: Mike Jones of Aces of the Deep answers a series of belated questions about his groundbreaking U-boat sim. Also, the Fix My 688(I) Campaign begins, designed to urge EA/Sonalysts into producing a no-cheat patch for Jane's 688(I). Noted Command Aces of the Deep programmer Brian Danielson pens a SUBSIM History, detailing the pioneer subsims from the early eighties to the early ninties. Other news: A new Russian subsim in development--Akula: Red Hunter--slips into oblivion.

Sept 1998 - To convey a more professional appearance, the website's title is shortened to SUBSIM Review. J. Graham Fuller - Columbus, OH; Patrik Nordberg - Mariehamn/Finland; Lane Goodman - Linton, IN; Mark Allen, Owasso, Oklahoma; Kristian Maenpaa - Yliharma, Finland; Bram M. Otto - Netherlands; EastWest - South Africa are the winners in the Summer '98 Giveaway.

Nov 1998 - In an effort to better serve players with questions about their games (and slow the growing tide of e-mail requests for help), Neal begins collecting tactics and tips from newsgroups, forums, and players' experience. The section is called, oddly enough, Tactics & Tips.

Dec 1998 - SUBSIM Review is featured in the New London Day newspaper in an article about the Fix My 688(I) Campaign. An excerpt: "Kim Castro, a vice president at Sonalysts who was heavily involved in the game's design, said he is aware of the campaign — and the company supports it." "We would love to do an upgrade. We've been in discussions with Electronics Arts about it, and I think the people there would also like to do it," Castro said. Right now, he said, Sonalysts is putting the finishing touches on "Fleet Command," which it is also doing for EA, but he is keeping track of some of the proposals made at Stevens' web site and other Internet sites.

Jan 1999 - Fion Kelley and John Channing begin collaborating on articles and news to SSR. A bulletin board is started. Other knowledgeable players begin pitching in to assist with the tech support. Among these are Ken Hinds, Troy Whigam, Justin, Hatchet, Hawk, Hondo, Paul Powell, Alex, Brian, Der Teddy Bear, Bram Otto, Jose, and many others. A true subsim community begins.

SUBSIM Review - May 1999

Feb 1999 - John Channing begins what becomes an annual event with SUBSIM Review--an interview with noted sub fiction author Michael DiMercurio.

May 1999 - Traffic to SUBSIM Review grows from 200 hits per day in the beginning of 1998 to 2000 hits per day. Neal begins getting overage alerts from the hosting company. He upgrades to the business plan. To offset the costs and keep his marriage solid, he begins a store to sell games. Extra money is used to fund the increasing number of prizes for contests.

Sept 1999 - SUBSIM Review now runs on a dedicated server to handle the growing traffic (we're not complaining!) and sports a new domain name: www.subsim.com .

SUBSIM Review - Sept 1999

Jan 2000 - Rick Martinez of Mattel Interactive agrees to an interview to update the players on the status of the oft-delayed Silent Hunter II. "Aeon (dev team) has now assembled a talented team, and the look of the game is outstanding, but it took about three times as long as we thought to get the right people in the right places, especially in regards to the 3-D world." In a few months we would learn it would be even longer when Aeon would be booted off the project for not meeting their milestones. To everyone's relief, SSI remained committed and Ultimation and Troy Heere picked up the ball.

Feb 2000 - SSR initiates the Mystery SUBSIM contest, where twice a week players get a shot at identifying a naval/subsim screenshot to enter a drawing for a copy of Silent Hunter II (slated to release behind schedule in the fall of 2000). The competition is fierce and the surge of traffic prompts the website to acquire a second dedicated server account. Hits soon top 100,000 a week.

April 2000 - A new contest yields new winners: David Cael, Seattle, WA; Petri Raatikainen, Helsinki, Finland; Cory Antosh, Tuscon, AZ. Mystery SUBSIM Contest expands to include trivia and questions about submarines. We ran out of different screenshots!

July 2000 - Navy Chief Frank "Torpex" Kulick signs on with SUBSIM Review. Frank's role and contribution is destined to grow.

Aug 2000 - Max is the winner of the first Mystery SUBSIM contest. SUBSIM Review launches a spinoff website--the Wolfpack League--designed to rally future players of Silent Hunter II and Destroyer Command.

Sept. 2000 - Sonalysts finally releases a new patch (by Tod Swain) for Jane's 688(I) to disable the 3D viewer in multiplay. Cynics whisper that it's because they are working on a new sim and want to stroke the players. We wryly disagreed and with the help of Vice-President Kim Castro launch a 688(I) Revival and contest.

Nov 2000 - SUBSIM Review get our hands on an actual beta copy of Silent Hunter II. Neal is the only member authorized to see or comment on it so we're kinda jealous. He has good things to say about it in the Beta Preview. Release date gets moved back to April 2001. We're outta jokes about that.

Dec 2000 - Isaac is the winner of the second Mystery SUBSIM contest.

Jan 2001 - SUBSIM Review's fourth year sees a redesign of the title page, some overdue file cleanup, and a review of Akella's pirate game Sea Dogs, along with the usual contest.

Feb 2001 - Subsim gets our hands on beta copies of Silent Hunter II and Destroyer Command. Both titles are well on their way to completion, could be any decade now. We publish our SILENT HUNTER II AND DESTROYER COMMAND; INTEROPERABILITY PROGRESS REPORT: Two different games, one multiplayer battlefield. The WPL Wallpaper contest nets three winners and over 60 great submarine wallpapers.

March 2001 - Frank Kulick publishes a report on the SH1 Pacific Thunder Campaign. Very refreshing to see enthusiastic players role-playing a campaign online from a single player subsim. World naval news by Bill Nichols becomes regular feature, updated daily, later bi-weekly. Work on a Sub Club/Wolfpack League database scoring system with stats of all members tracked begins with Rudi Peck. Visited Ultimation/SSI on USS Kidd VR shoot in Baton Rouge, Louisiana.

April 2001 - Frank "Torpex" Kulick becomes the first rep of the gaming press to see EA/Sonlayst's Sub Command. He's impressed and we're all jealous.

May 2001 - E3 hits LA again. We get feeds from several reporters on the activities. SHII and Destroyer Command are shown to thousands.

June 2001 - The Wolfpack League database and scoring system is beta, then goes operational. Database has 1870 members (it would grow to 5000 by the end of the year). Players test the scoring system by entering Battle Reports and watching the updates to their personal records.

July 2001 - Sub Command preview is up, first pure submarine sim in 4 years.

August 2001 - Wolfpack League is reorganized as a branch under the Sub Club, along with the Eagle League (Destroyer Command) and Sub Command HQ.

September 2001 - Sub Command goes gold and EA sponsors a Subsim.com SC Contest, giving away 5 copies.. Terrorists attack America causing great loss of life in New York, DC, and rural Pennsylvania. Sub Command is release to rave reviews.

October 2001 - Sub Club moves to a dedicated server. Subsim.com breaks the 20,000 unique visitors a week mark. Silent Hunter II goes gold. Work begins on a Subsim.com Second Kampagne for Silent Hunter II.

November 2001 - Silent Hunter II released, reviews are mixed but the general attitude of players is supportive. Multiplayer is expected with the release of Destroyer Command in Feb. 2002. New members of Subsim.com such as Vickers, See Falke, Duane Doutel, Andreas, and others create the Subsim SHII Realism pack.

December 2001 - Vickers leads the way in creating new and visually compelling new mods for SHII, including oil slicks, torpedo wakes, enhanced splashes, and secondary explosions. An SHII mod community contributes over 40 new mods for SHII sounds, menus, graphics, and systems.

Jan 2002 - SUBSIM Review has been on the web for FIVE years. The usual redesign of the title page (graphics by Vickers, who else!) starts the sixth year right. Second Kampagne is released and after 5 days over 11,000 copies are downloaded.

May 2002 - Subsim Review's E3 2002 Coverage include looks at Sea Dogs II and Harpoon IV. A trip to Groton, CT to see the latest Sonalysts project and attend the book signing event for US Submarines.

June 2002 - Subsim works with Ubisoft producer Carl Norman and Doutel Software to initiate a broad reaching mod that will convert SH2/DC from the original MP engine (rTime) to Microsoft DirectPlay. After consulting with German Subsim player Doc Snyder, the mod is deemed Projekt Messerwetzer (messerwetzer (ms-r-vt-zr-) n. [German] - A craftsman who sharpens old knives.) To avoid legal constraints, PM is funded purely by donations and will be free to all. Subsim donates $1000 and Subsim players eventually raise $9000 for Doutel Software.

Dec 2002 - Drebbel joins Bill Nichols as a major World Naval News contributor.

Jan 2003 - Projekt Messerwetzer is released.

April 2003 - Veternam war game journalist Bill Trotter (The Desktop General) features Subsim and PM in his May column.

October 2003 - Subsim and Sub Club members meeting in London for the first Intercontinental Meeting.

Jan 2004 - Subsim Review rolls through their 7th anniversary. A determined group of guys led by Hitman and Horsa have been hammering, welding, and banging on a new mod for Silent Hunter II since summer 2003. The effort is deemed Pacific Aces, a total conversion from U-boats in the Atlantic to US Silent Service in the Pacific.

May 2004 - Editor Neal Stevens attends the 2004 E3 convention in Los Angeles. First looks at Sid Meier's Pirates, Akella's PT Boats, and Ubisoft's Silent Hunter III reveal that 2005 will be a very good year for subsim players.

August 2004 - On the Continent, European Editor Drebbel visited the Silent Hunter III is releasedGerman Games Convention (GC2004) in Leipzig to check on Silent Hunter III. He writes the best preview for a game Subsim ever published.

October 2004 - The Second Intercontinental Subsim/Sub Club Meeting is held in Galveston, Texas. Highlights include spending two evenings aboard the WWII submarine USS Cavalla in Seawolf Park, special guided tour of the Battleship Texas, home bar-b-que by Abe Stevens, visit to the Lone Star Flight Museum, and special hands-on previews of Dangerous Waters (beta), Enigma, and Silent Hunter III (beta). Special guests include Kelly Assay (Tesseraction Games, Enigma) and keynote speaker Capt. Zeb Alford (Captain of two nuclear subs).

Nov. 2004 -- In the days before Silent Hunter III was released, everyone was speculating wildly on the SH3 release date. One November fine day, Subsim members saw a thread that said: New release date for SHIII. It was a clever hoax by Drebbel (especially the part where he said "Haha, got you" ). Subsim skippers formed a lynch mod and we kicked off a trial for Drebbel. Sailor Steve was Drebbel's defense lawyer, Hitman was the judge, JJ was the prosecutor, Torplexed was the court reporter, Neal was the bailiff, and Codmander and several others served as witnesses. The hoax thread by Drebbel that started it all: New release date for SHIII The Trial Proceedings Thread: Trial for Drebbel The Spectator's Gallery, including the art by court reporter Torplexed: Drebbel's punishment for behaving badly, **Spectator Gallery Sailor Steve's Press Conf: PRESS CONFERENCE! Film at 11

Jan 2005 - On the eve of the release of Dangerous Waters and Silent Hunter III, Subsim undergoes another facelift. New graphics are created by the 2005 Subsim Design Team. The News blogs are updated and include more images updated by News Editors Bill Nichols, Subguru.com & Drebbel, DutchSubmarines.com. A sub/naval book review section is added.

February 2005 - Dangerous Waters is released. It is a critical success and the first modern naval sim that allows players to fight on, above, and below the sea. Meanwhile a huge fight breaks out in the SH3 forum over the fate of the mysterious Red Triangle. Oleg uncovers proof that it was in Das Boot.

March 2005 - Silent Hunter III is released to wide acclaim and praise. Subsim adds a new server to handle the increased traffic and mods. The Subsim SH3 review breaks new ground.

September 2005 - the Third Annual Intercontinental Sub Club meeting is held in Amsterdam. Over 40 Subsim enthusiasts attend for 5 days of mayhem. SH3 Exec Producer Florin Boitor is the special guest.

January 2006 - Nine years on the web. Daryl "Subnuts" carpenter becomes Subsim's most prolific book reviewer, posting over a dozen reviews during the year. The SH3 Mods forum is a beehive of activity with Real U-boat, NYGM Tonnage Mod, Grey Wolves, and other teams putting more excitement into the year-old sim.

March 2006 - Five veterans from the Silent Hunter III dev team begin planning Silent Hunter 4. This latest entry in the longest running subsim franchise will be set in the Pacific and allow players to command US subs.

April 2006 - Subsim's annual April Fool prank zings readers!

April 2006 - Due to ever-increasing web traffic and forum growth, Subsim upgrades to a new server, with the downloads and archives remaining on the old server. Migration to vBulletin forum software begins, with archives going back to 2002 updated.

May 2006 - Work begins on the Subsim Special Project, to eventually become the 2007 Subsim Almanac. Queries are sent to 50 historians, game developers, enthusiasts, artists, writers, and submarine veterans.

September 2006 - The US Navy invites Subsim to take a cruise aboard the USS Texas nuclear sub at Cape Canaveral, Florida, and attend the commissioning in Galveston, Texas.

September 2006 - The Lucky Lighter by Jason Lobo wins the Subsim story contest. In addition to Jason's story, original fiction by Gerard Cuomo and Mariano Sciaroni will be featured in the 2007 Subsim Almanac.

December 2006 - First draft of the Subsim Almanac undergoes the final edit.

January 2007 - Ten years on the Web! The 2007 Submarine Almanac is published, celebrating 10 years on the web with a flotilla of stories, articles, and art from naval historians, subsim players, game developers, and Navy men. Foreword by Bestselling Author Joe Buff:

For raw courage and grit, for long separations from family, for extremely rough living conditions in crowded and claustrophobic spaces deep under the waves, no other branch of military service compares with submarine service. Weeks of repetitive, uneventful watchstanding can change without warning, in a moment, into a frenzy of well-coordinated thought and action where the lives of every soul aboard, and sometimes the fate of humanity, are instantly at stake. For instance, if an emergency action message comes through to a boomer, if a fast-attack suddenly detects a hostile contact approaching, if Tomahawk launch mission orders arrive unexpectedly on a guided-missile sub—a submarine must be ever-vigilant for conflict. Even in peacetime any one of a myriad potentially deadly mechanical casualties may occur. A sub is always at war with its natural elements: the sea.

February 2007 - In tradition with Silent Hunter 2 & 3, Subsim offers the world a first look at Ubisoft's franchise subsim: Silent Hunter 4

April - May 2007 - Silent Hunter 4 review is published. Shortly followed by a manhunt for the crucial v1.3 patch.

September 2007 - Subsim writers send in submissions for the second story contest. Five are selected for the upcoming Almanac.

Oct. 9, 2007 - Well-liked Subsim member Abraham (Bram Zeegers) is found dead in his Amsterdam apartment.

A key crown witness in the trial of suspected crime boss Willem Holleeder was found dead in his home in Amsterdam south on Tuesday morning. The police said they can neither confirm nor deny that Bram Zeegers had committed suicide. Zeegers was a confidant of the property tycoon Willem Endstra who was shot dead in 2004. The report of Zeegers' death was made by someone at his home, police said. This person, who is not a suspect, was taken to hospital by ambulance on Monday night after becoming unwell, reports ANP news service. Last week Zeegers gave evidence in the trial of Holleeder who is charged with the blackmail of four property tycoons and has been linked to ordering the murder of Endstra and several other killings.

November 2007 - The first WWI U-boat sim Shells of Fury is reviewed by noted historian Horsa. Later in the month, we publish our second book, the 2008 SUBMARINE ALMANAC. Sales are double the first edition.

January 2008 - Subsim breaks the eleven year mark with a look back at the Top Subsim Ten events of 2007.

January 2008 -- There are many great people in the Subsim community but no one quite like Dave "Leovampire" Bunnell. Dave created a game changing mod for SH4 called Reflections on the Water, improving the water, sky and environment graphics dramatically. His thread was one of the most popular in Subsim history and everyone enjoyed working with him. It was a sad day when Dave passed away and left a hole in the community that will never be filled. Memorial to Dave.

April 2008 - Over 110 entries are received from 22 artists in the Subsim Art Contest. The happy news is dampened by Subsim's exclusive breaking story on the US Navy's decision to man a fast attack with women.

May 31 - June 3, 2008 - Subsim's server is knocked offline by a transformer explosion and fire at the Planet (ex. EV1 & Rackshack) Houston datacenter. At first, the Planet was able to restore power after two days but the datacenter's backup generator failed, and we were down 2 more days.

July 2008 - HunterICX and the men of the Helosim forum (offshoot of Subsim) began the first Lolwaffle DCG campaign, generating lots of laughs, mid-air collisions, and proving that there was life in the air. This and Dowly gets nostalgic.

Sept. 2008 - Hurricane Ike targets Subsim (Texas)

Oct. 9-12: 2008 Subsim meet in Houston, TX.

Events included an unlimited access tour of the Battleship Texas, shooting practice at Bailey's Gun Range, Tex-Mexican dinner at Casa Ole!, Seawolf Park tour of USS Cavalla submarine, USS Stewart destroyer escort, help with storm repairs and clean up. Gaido's Famous Gulf Seafood, Lone Star Flight Museum, the first ever Subsim Paintball war! And BBQ by Pop, with Mom's world-famous banana pudding.

Nov 2008: The 2008 Mystery Subsim Challenge, 100 screens and clips from 100 naval and sub games!

Jan 2009 - TarJak hosts the Official SubsimMachFest, our very own short film festival!

| | |
| --- | --- |
| Feb 2009 - Subsim kicks off its first Werewolf Hunt. Twenty-seven fearless Subsim members sign up and are whisked away to remote and forbidding Vanvikan, Norway where a U-boat crew and small village grapple with an unspeakable horror. | |

March 2009 - Subsim revamps the Downloads section and integrates it within the forum to allow easier updates, better categorization of mods, and less work for the admin. Sailor Steve and Laufen zum Ziel volunteer to serve as Mod Managers. Mod makers are able to apply and receive Modmen status and upload and update their mods. Within a few years, the number of available mods exceeds 2500!

April 2009 - To meet the growing demand for downloads and the swelling forum bandwidth, Subsim migrates the excess traffic to an additional server with SoftLayer: Dual Xeon 5520 - SATA, 12 GB RAM, x6 Drive SATA 250 GB IDE/SATA HDD.

May 2009 - Letum hosts an undersea version of the werewolf hunt: HMS Thanatus Game. HMS Thanatus lies on the bottom of the sea. Her bow, aft and 4 lower decks are flooded.The last few days have been a confused blur of screams and salt water. At least what ever had terrorized the crew and set off those explosions seams to have gone away...

July 2009 - The Subsim crew work party at Seawolf park July 2009. Five members converged in Galveston to work on the submarine Cavalla and flirt with waitresses.

Sept 2009 - After nearly two years of hard work, Subsim became a registered trademark

United States Patent and Trademark Office
Serial Number:77333929
Registration Number: 3675018
Current Status: Registered.
Date of Status: 2009-09-01
Filing Date: 2007-11-20

| | |
| --- | --- |
| | Sept 2009 - 2009 SUBSIM Meet in Copenhagen. Subsim members from around the world converged on Copenhagen for their latest convention. Activities included a special voyage to dive aboard the UC3 Nautlius submarine with skipper Peter Madsen, a jaunt to Kiel, Germany to tour the U-995, a first look at Ubisoft's Silent Hunter 5 by Romanian developers elanaiba (Dan, SH5 lead designer), Mike, SH5 associate producer (Mike the bike), maerean_m (Mihai Maerean SH5 interface developer), a tour of Peder Skram, and Sehested, Danish submarine and warship. Twenty-three people from nine nations attended. |
Dec 2009 - The 2009 Best of Subsim Awards! The first year the Best of Subsim was conducted. These individuals were selected through a process that involved much discussion, multiple votes, and had to be pared down from many nominees. These members and accomplishments were exceptional examples of this community's finest.
Jan 2010 - Top Ten Subsim Events of the 2000's and Mikhayl's hilarious Das DRM.
March 2010 - Ubisoft releases Silent Hunter 5. The game limits the player to a Type VII and a narrow time frame in the war, but introduces full U-boat access and more RPG elements. It also pioneers UbiPlay, an anti-piracy scheme that forces the player to have an online connection to play the game. The game is not a success, due in large part to UbiPlay and the game's unfinished state. Still, it ignites a firestorm of modder activity and becomes the hub of the Subsim universe for 2010.
April 2010 - Subsim's 2010 April Fool's joke shocks everyone who visits the forum. No one is prepared to see this. Much coffee is spit upon many monitors, some Red Bull, too, it is reported. Posts and tirades are launched--what happened to our forum?!! In the end, everyone gets the joke and the pitchforks and torches are put away for another year.
Sept 2010 - New London Subsim Meet - The men of Subsim gathered on the US east coast for a fun-filled weekend. Activities included a tour of the USS Nautilus, visit to Sonalysts, Battleship Cove, USS Growler submarine, USS Constitution, USS Lionfish submarine, and more. Hosted by August.
Jan 2011 - Best of Subsim 2010
May 2011 - the Great SUBSIM Spam Hunt of 2011! As Subsim grew, so did its attractiveness for spammers. Neal has always managed to keep most spammers out, but it was discovered during some routine server and database maintenance that there were several hundred dormant spam accounts in the system, with spammy signatures and homepage URLs. Neal enlisted the aid of the rank and file and launched The War on Spam to comb through the roster and zap spammers. Nearly a hundred members joined in and wiped out spam in our time. New registration vetting tools and sharp moderators have kept spam in Subsim to zero.
| | |
| --- | --- |
| June 2011 - The faithful Subsim members brave another werewolf hunt. This time the setting is the southern coast of Finland, where the HMS Terrific has been marooned under the shadow of the mysterious Nazi Castle Collinswood, where experiments and crimes against nature take place. | |
July 2011 - TLAM Strike and Frau Kaelun launch the meme of all sub memes: LOLBoot.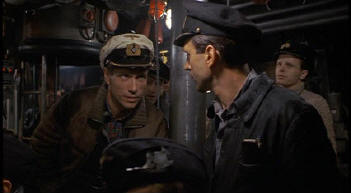 "Deeper, chief, and twenty bucks says the new guy wets himself."
Nov 2011 - Ubisoft adds Offline option to UbiPlay for SH5. lanziqi reported, "Yesterday the Uplay launcher had an update, which added OFFLINE MODE option in the setting section on the top right corner of the Uplay interface. Now the legal owners of the SH5 can play it without the internet connection needed even in the very beginning of the Uplay starts! Of course you need to disable the savegame synchronization."
Jan 2012 - SUBSIM: 15 Years on the Web! Online since 1997, Subsim has grown from a homepage to the center of the submarine and naval simulation world. Over 70,000 registered members, dozens of reviews, and nearly 3000 game mods.
Feb 2012 - a new Subsim Overlord banner is created to spotlight the members who do the most to keep the website running.

March 2012 - The Best of Subsim 2011. The annual awards reach the third year in recognizing outstanding Subsim members and activities.
May 2012 - Progress marches on and with it comes the need for an additional server. Neal reaches out to Rack911 to provide a fully managed server with moar power! E3-1230, 16GB Ram, 2 x 1TB Hardware Raid 1, 1 x 1TB Backup Drive, 10TB Bandwidth.
July 2012 - The Silent Hunter 5 mega mod Multiple UIs for SH5 with TDC by The Dark Wraith was the first heavy-hitting mod for the fledgling Silent Hunter 5 and made a significant contribution to the modding and playability of the game. Released in 2010, the thread grew and was seen by more visitors at Subsim than any other thread. It hit 1 million views in July 2012. Hitting a million views was only a matter of time for some of the most important threads. The Grey Wolves thread hit the million view mark shortly after Multiple UIs, and others will follow as the thousands of sub game players venture onto the Subsim base, but TheDarkWraith can always claim to be the first.
July 2012 - Ubisoft invites Editor Neal Stevens to visit their studios in Dusseldorf, Germany and have first look at the exciting new game, Silent Hunter Online.
| | |
| --- | --- |
| | Silent Hunter Online is a browser-based U-boat game, free to play (F2P), where a player can sign up an account and play from any PC. There are some strategic layers to the game that set it apart from any of the previous Silent Hunters. You have some BdU functions such as outfitting and directing more than one U-boat. |
Oct-Dec 2012 - Subsim adds several new features and revamps some old ones. The archives are brought back online. The donation model has been integrated into the forums and is streamlined with a SUBscriber's forum. A new IRC chat Channel is added, the Subsim Facebook group is reinvigorated, the Subsim YouTube channel is upgraded, Tapatalk support for mobile, and banners to the Subsim Steam Group, World Naval News, and Subsim Member Photo Albums are added to the forum.
Nov 2012 - Ubisoft publishes a Silent Hunter Online interview with Stevens.

Dec 2012 - The Best of Subsim 2012 and the Top Ten Subsim Events in 2012
Jan 26, 2013 - Subsim celebrates 16 years on the web with a trivia contest and prizes.
Mar 2013 - Subsim's forums hit 90,000 members and amasses several popular mega-threads such as This is the comment thread!, Dear Steve Thread, Funny Picture Thread, and What are you doing now in real life.
Dec 2013 - Best of Subsim 2013
May 2014 - Silent Hunter Online Captain's Exam gets underway!
June 2014 - Oberon starts the 100 Years Ago Today thread commemorating the events that started World War I. Jimbuna and Sailor Steve leap into action and the thread chronicles the war as it unfolds.
July 2014 - A herd of Subsimmers converge on the unprepared town of York, UK. Jimbuna, Oberon, Herr-Berbunch, Betonov, Gemma, & TarJak visited the Elvington Air Museum, National Railway Museum, lots of trains and planes.
Dec 2014 - Best of Subsim 2014
Mar 2015 - Ever wonder what a Subsim skipper does when you borrow one of his tools and forget to return it? Find out in Betenov's Khukuri thread.
June 2015 - Probably the coolest thing we've ever seen, and includes dummy torpedoes and red triangles, is Subsim member tmccarthy's personal home submarine simulator. Seriously, how cool is this??!
June 24, 2015 - Sad news, our friend and forum contributor Ken Wright (Laufen zum Ziel) passes away. You will be missed, friend.
Nov 2015 - Out of the blue, the Koreans attack! Subsim's forums were whalloped by a massive spambot attack, with hundreds of indecipherable Chinese-type threads posted in waves.... luckily, Subsim moderators Jimbuna and u crank were on hand to throw up the barricades and direct them to the bilges. Out of this came Subsim's Red Alert team, poised to sound the alarm and nuke the spammers at the source. Hey, don't blame us for the politcal fallout this will create, they started it.
Dec 2015 - Subsim's Facebook group, started by Les Robertson Sept. 9, 2008, hits 1000 members. And what a crew, creating a ton of funny ways to be more aggressive with memes and laughs. We can think of no better way to start your morning than with a cup of special blend Subsim coffee and a scroll through the funny and interesting posts.
Dec 2015 - Best of Subsim 2015
Jan 2016 - Subsim online for 19 years, countdown till 20th.
May 2016 - Indie dev team Deep Water Studio announces UBOOT, an interactive new sub game that allows the player a great deal of RPG and crew management. Subsim previews the game and interviews the dev team, plus pitches in for the Kickstarter.
May 2016 - Swedish indie dev team Skvader Studios releases a demo of their fictional history WWII Swedish subsim, HMS Marulken. Subsim previews the demo of the 4-person co-op game, and joins the Kickstarter at the top level.
June 21, 2016 - With Skvader Studio's Kickstarter still short of the total (but close!) and the deadline looming, Subsim agrees to finance and produce the game. The first change: alt-history is out, the game will center around the German Type VII U-boat. Neal flies out to Stockholm to meet the devs and get started on game design.
Aug. 6, 2016 - Subsim and Skvader Studios (Neal, Einar, and Oscar) journey to Kiel, Germany to survey the U-995, and meet up with a few Subsim members.
Aug. 10, 2016 - Subsim presents Wolfpack. Skvader Studios have upgraded the HMS Marulken project to a 4-player co-op U-boat simulation. Work is fast underway with a high-quality Type VII U-boat model, reconfigured helm station, and upgraded environment. Our team spent many hours examining the U-995 in Kiel, Germany last week and we plan to create a U-boat game that gives the four players procedural hands-on control of their stations. The teamwork and skill-based gameplay will set Wolfpack apart from all the sub games that have come before it. Sailor, get ready for a whole new way to subsim.
Jan 26, 2017 - SUBSIM celebrates 20 years on the web.


Aug 11, 2017 Peter Madsen - The host of the 2009 SUBSIM Meet in Denmark and designer of the UC3 Nautilus submarine has a crisis at sea, with the Nautilus sinking and Madsen being rescued. He is questioned by the police over the disappearance of Kim Wall, a Swedish journalist who had last been seen alive aboard the submarine.



November 2018 - Das Boot TV series premieres: A German television series produced for Sky One and a sequel to Das Boot (1981). Like the film, the series is based on Lothar-Günther Buchheim's 1973 book Das Boot, but with additions from Buchheim's 1995 sequel Die Festung. As the original film's plot ends in December 1941, the series' setting takes place nine months later, in 1942. The storyline is split into two narratives, one based on land around the French Resistance, the other set around German U-boat U-612 and its crew.

April 2018 - Peter Madsen is convicted of the 2017 murder of Swedish journalist Kim Wall on board his submarine, UC3 Nautilus, and sentenced to life imprisonment.



March 15, 2019 - Wolfpack released! A crew of players experience the tense atmosphere of a WW2 U-boat, manning the stations in this realistic co-op simulation game. Several crews may play together in a wolfpack, completing missions based on iconic events during the different stages of German U-boat warfare.




Sept 2019 - Single player for Wolfpack is released.

Feb. 17, 2020 - Fall of the Rising Sun Ultimate release, considered by many to be the most significant SH4 mod released.


---

Oct. 12, 2020 - Neal and other users get a Malwarebytes warning of a possible issue when accessing the site. Neal shuts down the site and contacts Steven Ciaburri, System administrator and owner of Rack911, the service used for the SUBSIM servers since May 2012. Although Steven was a server ninja and always managed to fix any hairy problems in the past, over the last few years Steven had become less and less responsive when contacted for support. In this case, 48 hours pass without action and Neal engages another server security firm to do a full scan of the server. The third party security team spends 6 hours checking and gets Malwarebytes Security involved. It turns out to be a common false alarm, there was never any kind of hazard or risk for users of the site. Both the security team and Malwarebytes gives the server a 100% secure rating.

Oct 24-30, 2020 - Neal decides that Steven Ciaburri has mentally checked out and is obviously no longer professionally involved with his company and customers. Neal decides it's time to move the site to a more active and reliable host before something happens that cannot be recovered. After a lengthy evaluation, he chooses Liquid Web and a complete migration is performed. The forum is upgraded to the latest 3.8.11 version by Dave at technidev.com and all functionality restored.

Since the legacy Content Management System is no longer supported or updated and will not function with the newest php, Neal converts the main page to the standard WordPress system and moves the news and forum archive to a satellite site, subsim.site.

SUBSIM main page facelift, first significant change since 2005


Oct 31, 2020 - After a week of intensive work the migration and upgrades are complete.
Nov 3, 2020 – After two weeks out of communication, Rack911 replies to the support ticket entered in mid-October:

Sorry for the issues. Where do we stand here
Regards,
Steven Ciaburri
Sr. System administrator
Neal replies that it is no longer an issue since Subsim is now hosted on Liquid Web and wishes Steven well....

Nov 18, 2020 – Two weeks later, Neal receives this email from Rack911:
Rack911 Customers, I regret to inform you there has been a fatal accident involving Steve, some of you are already aware and some of you may not be. My name is Jon Juliano I have been a friend of Steve's for many years so I'm taking this task to reach out to all of you to ensure your transition is as smooth as possible whether you have hosted servers or strictly server management. Steve was a very talented individual and well respected in the hosting industry so it would be a tough task to find his replacement, that being said I have chosen an individual with equal respect and talent in the hosting industry that would be able to provide you assistance if you choose. I will leave my contact info below as well as Scott Mcintyre with admingeekz.com. Please don't hesitate to reach out for any concerns or questions. As for servers hosted with Rack911 this is a very time sensitive issue we do not have control over the Inter connects so all migrations need to be done ASAP.

Best Regards,
Jon Juliano


Scott Mcintyre
www.admingeekz.com
It appears the disaster and lack of support from Rack911 was a blessing in disguise since it prompted Neal to migrated SUBSIM from Rack911 a few weeks before Rack911 went under. Can you believe it?
Steven was a tremendous individual whose server skills were unmatched. He had apparently lost interest in Internet management and had become a serious diesel truck performance enthusiast. On Nov. 11, 2020 he was killed in a vehicle accident. He was 33. No other details can be found. While his lack of support at the end was regrettable, Steven had managed several crucial assists to the SUBSIM Team early on. He will be missed. RIP Steven.
Two years later and the Rack911 website is still up although it is no longer a business.

---
December 2020 - SUBSIM's annual fundraiser is cancelled due to Covid-19 difficulties all members are facing.
January 2021 - Here are your Best of SUBSIM 2020 winners

April 1, 2021 - SUBSIM releases a teaser video of its next project: Depth Charge Simulator!

April 9, 2021 - Wolfpack water asset preview!

July 7, 2021 - SUBSIM previews the upcoming sim, Destroyer: The U-Boat Hunter.

August 6, 2021 - The Wolfpack Team complete the major water asset upgrade and moves on to
the next item on the roadmap - full U-Boat interior.

Jan. 13, 2022 - Best of SUBSIM 2021!

Jan. 26, 2022 - SUBSIM celebrates its 25th anniversary on the Web!

Feb. 7, 2022 - An easy way to nominate members and posts for Best of SUBSIM awards is implemented.

Jun. 19, 2022 - SUBSIM previews the full u-boat interior of the game Wolfpack


Jun. 23, 2022 - SUBSIM site design refreshed with MH Magazine theme.