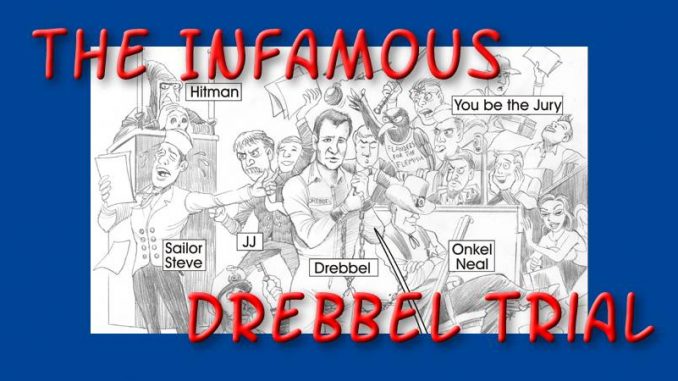 Ahoy mates, if you were around in the days before Silent Hunter III was released, you may well remember the infamous Drebbel Trial. It made the international press and launched Drebbel's career as a cabaret singer (but that's another story). In summary: everyone was speculating wildly on the SH3 release date, and as you should know, Subsim has a zero tolerance joking about release date policy (just joking, we allow some joking, but not much). So, in most cases, if someone starts a thread with a title "Silent Hunter III Release date" and has some bogus info, it better be really funny or April Fool's day, or the poster could get zapped.
One fine day, Subsim members saw a thread that said: New release date for SHIII It was a clever hoax, (especially the part where he said "Haha, got you" 

 ) and I was happy to let it pass but many Subsim skippers formed a lynch mod and threatened to send me 1000 bottles of Diet Dr Pepper as punishment if I didn't hold the Dutch Sea Lord to the same standard as other less clever hoaxers. So reluctantly, I initiated a trial for Drebbel.
Sailor Steve was Drebbel's defence lawyer, Hitman was the judge, JJ was the prosecutor, Torplexed was the court reporter, I was the bailiff, and Codmander and several others served as witnesses.
So, after a lot of scouring the web and with the help of Torplexed archivist Thomas, I present the long lost Drebbel Trial thread! 
The hoax thread by Drebbel that started it all: New release date for SHIII
The Trial Proceedings Thread: Trial for Drebbel – Don't post unless Judge calls you!
The Spectator's Gallery, including the art by court reporter Torplexed: Drebbel's punishment for behaving badly, **Spectator Gallery
Sailor Steve's Press Conf: PRESS CONFERENCE! Film at 11