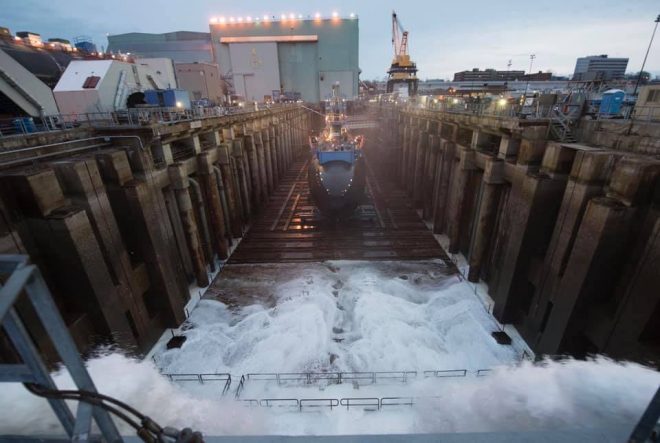 The Navy has "full confidence we can ramp up" to building three attack submarines per year if the Navy buildup proposed by former Defense Secretary Mark Esper were to be enacted, despite ongoing delays in Block IV Virginia-class construction, the program executive officer for submarines said today.
Esper's Battle Force 2045 called for the Navy to reach 70 to 80 attack submarines, and he specifically called on Congress to allow the Navy to start building three Virginia-class subs a year as an immediate way to begin implementing this vision – this despite the Navy being on a path to build two a year for the foreseeable future but Esper's Pentagon cutting the budget to just one in this current Fiscal Year 2021.
The Navy has just 50 SSNs today, is on track to dip to 42 later this decade, and wouldn't reach the 60s until 2042, according to current plans. Shipbuilding would have to ramp up to at least three SSNs a year, if not more, to reach Esper's goal of as many as 80 by 2045.
"We are in the initial studies of doing that analysis of how you go ramp up for three a year," Rear Adm. David Goggins said in response to a question from USNI News today at the Naval Submarine League's annual symposium.
"But first of all, the priority is Columbia, so we've got to make sure as we ramp up to three per year that that program delivers on time," he made clear.
"So how are we doing this? The good news is, the work we've done with our government-industry team on the vendor base, we have a very good understanding of our vendor base today at the two Virginias per year – we know where the constraints are, we know where we need more machines, more buildings – so we have a good understanding of what it will take to ramp up our vendor base for going from two to three Virginias per year. Where we need to do work is at [General Dynamics Electric Boat] and Newport News, ramping them up for three per year: what facilities they need, what machines they need and the manning ramp-up they have to go do for three per year," he continued, referring to the two shipbuilding yards that co-produce the Virginia and Columbia submarines.
"We are looking at expansion options: it will require investment at EB and Newport News, our vendor base. We're not going to do that at the expense of the Columbia program – the Columbia is the priority. The second priority is to execute the schedule for Block IV and Block V (Virginia-class subs), and we have full confidence we can ramp up to three per year if the Navy is called to go do that."