SUBSIM REVIEW ON-LINE GAME STORE
Looking for that elusive subsim can be as difficult as breaking contact with five destroyers.


Your Amazon order supports Subsim.com!

US viewers: Order anything through this search portal and Subsim gets a commission.

Books, Games, DVDs, Toys, Cameras, Movies, Star Trek, Submarine games, Naval Books, Music
AMAZON United Kingdom Subsim Store
AMAZON German Subsim Store
AMAZON Canadaian Subsim Store
Ready to take command? Order it now, receive it in a few days, play it for months!
YOUR PURCHASE KEEPS SUBSIM.COM ONLINE!

OUR SYSTEM IS 100% SECURE!
SUBSIM Battle Gear: check out our very own Subsim Brand name stuff! U-boats, nukes, US subs!
Silent Hunter 5 order through Subsim via Amazon
Ordering through this link costs you nothing extra but big ol' Amazon will add $1.50 to the Subsim account, thanks!
---
Introducing, the first World War One subsim: 1914 Shells of Fury



Only $19.99 now!

Set in WWI, "1914 Shells of Fury" is the first WWI submarine simulation to be released. Players have command of their very own WWI Submarine from the German Emperor's fleet. Prepare to participate in exciting underwater missions from WWI, and work out detailed strategies using powerful weapons. Take command and control of the various missions given, while roaming across the ocean. Players must use tactical skills in order to survive and move ahead of the opponent.

First Submarine simulation of World War I
Detailed models of Submarines, Warships, Merchant Ships and Airplanes
Four different German Submarine boats to choose from: Armada-Petrolboat, Armada-Dieselboat, UB-I and UC-II.
Over 50 individual missions with accurate historical background
Campaign-mode from 1914 to 1918
Mission-generator
Adjustable levels of difficulty
Realistic Submarine Stations
---
Silent Hunter 4
Order here and support Subsim!


Silent Hunter 4 GOLD comes with

U-boat Missions add-on
Silent Hunter 4 complete game
all patches built in, including
v1.5 patch!

Silent Hunter 4 GOLD with U-boat Missions and all patches!

Silent Hunter 4 makes a strong first impression. The graphics, shading, and lifelike movement of the water, clouds, and ships surpasses SH3. Ships have an incredible amount of detail. The dev team had two guys assigned to improving the water definition and coloring, including translucent sun rays beneath the waves. The ships now have a "3D wake effect", and when you dive, you can see the shape of the sub just beneath the waves. Things are looking better at the bottom, too. The sea floor is included in the graphics upgrade, with rocks, vegetation, and possibly wreckage scattered about.

To sink the enemy ships, Silent Hunter 4 features a photo-realistic Torpedo Data Computer. Each aspect of gathering the ship ID, speed, bearing and course will not be hard for an SH3 veteran to grasp. I found the look and feel of the SH4 TDC greatly improved and more realistic than SH3. It's very important to identify the target ship correctly to ensure the best shot at success. The game includes a terrific recreation of the stadimeter, where the player uses the periscope to bring a mirror image of the target down to the waterline to obtain the best range. The player also has the option to ping with active sonar for range.
Need an affordable but powerful graphics card to run SH4 in all its glory?
Click on any card; once it takes you to Amazon, you can keep looking for the card you want and
no matter which one you purchase, Amazon will give some $$ to Subsim at no extra cost to you!

---
Dangerous Waters $39.95 $19.99 NOW $14.99

The last of the great nuke subsims!

This game boasts seven playable platforms that include air, surface, and subsurface units! The familiar units from Sub Command return: the SSN-21 Seawolf class, the 688i Los Angeles class, and the Russian Akula class. The new platforms include the Oliver Hazard Perry class frigate, the P-3 maritime air patrol craft, and the MH-60 multi-mission helicopter.
I know what many people will think when they discover that they can control seven platforms: "Hmm…attack from the air, the surface, and below…sounds like some kind of survey sim." Calling this game a survey sim implies that realism and detail is sacrificed in order to include the different types of platforms. No, this is a true command study sim…the player will find a high degree of fidelity of systems modeling
for every unit. Each unit utilizes an array of tactical stations, and as in Sonalysts' previous outings, a competent auto-crew can be assigned to each station in order to allow the player to focus on other tasks. I have to say that getting all of these highly detailed platforms in the same box is a great deal for the potential buyer! -- Frank "OptimusX" Reynolds Read the Subsim.com FINAL REVIEW!

NOW $14.99


Get the 700-page Strategy & Combat Manual guide here!

---

Sonalysts Subsims Center


NAVAL COMBAT PACK! - 3 subsims for $20!

688(I) Hunter/Killer
688(I) Hunter/Killer, the most realistic submarine simulation ever developed for PC. Master the sonar and weapons control systems, learn to develop real target situations and outfit your boat with the latest advanced weaponry. Then use your skills to complete the tour of duty and earn your dolphins to become a true submariner.

Fleet Command
International waterways become theaters of war when the world's most formidable maritime powers exchange their fatal blows. With entire fleets at your command, you must strategically deploy vessels from every class – frigate to aircraft to nuclear submarine – to maintain the precarious balance of naval power and gain position for the deadly endgame.

Sub Command
Take charge of the most deadly modern-day submarines in the world – three distinct submarines across two unique and challenging campaigns. Utilize cutting-edge sensor and weapon technology to locate, track and destroy the enemy – even deliver Tomahawk missiles to inland targets. Whether transiting, diving, or surfacing you control the smartest, stealthiest and most feared subs on the water today!



Features

688(I) HUNTER/KILLER

A truly authentic simulation: Developed by Sonalysts, a defense contractor who designs submarine simulators for the US Navy
Over 12 detailed operating stations: Control all aspects of submarine warfare, including the sonar suite, fire control, helm and target motion analysis
Real-World Terrain: Ocean depth and water density for the entire globe are based on actual satellite topographical data
Real-life situations: Conduct detailed training and single missions, plus a full campaign based on political analysis from real world situations
Multiplayer Warfare: Seek and Destroy up to 8 players over the internet or LAN
Full 3D Technology: Full 3D technology allows for multiple camera views and accurate 3D models of over 20 different naval weapons platforms
Complete Control: Manage all of the resources of your submarine, including crewmen training and weapons load-outs

FLEET COMMAND

Campaigns and mission scenarios straight from current headlines
Exclusive real-time strategy with cuttingedge, real-world weapons
Intuitive point and click game play
No need to memorize symbols or complex commands
Player designed task forces
Complete 3D environment rotates and zooms for intense combat action
Effects modeled in stunning detail- time of day, clouds, rain, differing sea states, ship's wake and pyrotechnics

SUB COMMAND

Three submarines to command -- Seawolf, 688(I) and Akula. Each contains authentic naval systems including Sonar, Radar and Target Motion Analysis.
Test your skills while firing Tomahawk missiles, rescuing crippled subs, rising through the polar ice cap to communicate information and much more.
Easy to use game interface -- With straightforward controls and automated crewmen, controlling a submarine has never been easier.
Enhanced sound and 3D graphics engine 3D Objects (over 250), from Russian trawlers to France's Mirage fighters plus exacting sound modes pull you in like never before. You won't just hear the torpedos, you will feel them.


Click here to buy
Other Great Sonalysts Subsims!
---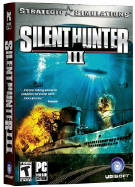 SILENT HUNTER III on DVD
Get it NOW! The next title in the Silent Hunter franchise will add new dimensions to the simulation experience. The player will engage in a compelling ocean environment, featuring dynamic weather, and experience the intensity of historical naval warfare in the first true DYNAMIC CAMPAIGN since Aces of the Deep. Taking the role of the U-boat commander, players will seek their enemy with sonar and periscope, attack the enemy with torpedoes, destroy them with the deck gun, or command their crew to do the job.

SH3 breaks new ground with utterly stunning graphics. While Silent Hunter 2 graphics were good at the time, in SH3 the overall appearance of each ship and sub is one big step closer to photorealism. Details abound. Railings, masts, cargo, port holes, anchors, and rust are smoothly rendered and lifelike. Whereas SH2 ships had details they appeared to be painted on the skin. SH3 ships and subs are so sharply rendered that they fully earn the term "3D". The edges and curves don't draw attention to themselves, they merely are part of the ship. The water surface doesn't just shine and shimmer—it holds the reflection of the vessels. These are graphics that make no excuses about being in a subsim.

Easily as impressive are the physics and object motion. The fluid motion of the ocean waves, the ships sailing and turning, and the subs diving and rolling under depth charge attack all possess that elusive true-to-nature quality. This sim has a lot of replay value in simply watching the vessels sail on the ocean. It's a great joy just watching your sub slip beneath the waves bow-first. Equally impressive is seeing a destroyer tearing down on you with a "bone in the teeth", the tell-tale bow wave that signifies he is running at high speed.

In fact, the game reaches even further and recreates a WWII movie atmosphere with cinematic cameras focusing on the most crucial events around the player. Whether they are stalking Destroyers or hiding from depth charges, players will experience the game as their own personal war story. Also available will be a robust multiplayer mode that includes both cooperative and competitive play.

LEGACY VERSION


CLASSIC SH2 + SH3
WITHOUT STARFORCE $10

Read the Subsim.com FINAL REVIEW!
Read the Subsim.com Hands-on Preview
---
Can't find the game you want?
Interested in other games at great prices, delivered to your door in a few days?

Search the entire catalog!
Order any kind of game you want, you still help Subsim.com!
---
Sid Meier's Pirates!
Originally released in 1987, Pirates! received unprecedented critical acclaim for crossing multiple game genres to offer unique, unrivaled gameplay options. Pirates! set the industry standard for innovative game design with its unique blend of open-ended role-playing, real-time adventures and thrilling action sequences.
Now it's time for Sid Meier and Firaxis Games to bring this pioneering action-adventure game into the 21st century. An entirely new game engine will deliver updated gameplay, stunning new features, spectacular 3D graphics and enhanced sound effects, so players can fully experience the intrigue, adventure and danger of life as a pirate on the Spanish Main.
In Pirates! you take the leading role of a Pirate Captain in the 17th century Caribbean amassing fortune and fame in an attempt to seize your rightful place as one of the most revered (and feared!) pirates in history. Test your skills as a sea captain exploring the high seas and exotic ports in a richly detailed 3D world. Overtake the enemy and seize valuable booty. Exchange plank-shattering broadsides in fierce naval battles, and engage in duels with worthy opposing captains.
The new Pirates! carries on with the great gameplay and design simplicity tradition of the award-winning original, while adding more challenging and exciting battle options. It offers a deeper and more varied role-playing experience that includes multiple paths to a wealthy retirement. This and many other features and additions make this gaming classic one of the most highly anticipated releases of this century!
Confront enemies on board ships, in seedy taverns, on the ramparts and even at the Governor's mansion Wield weapons -- or anything within your reach -- as you fence against foes

Engage in fierce naval battles fighting single enemies or multiple ships

Sneak into towns, escape out of prisons, navigate around adversaries and surprise unsuspecting vessels Dispatch landing parties of buccaneers in strategic battles to take over entire cities

Game Features:

Experience an all-new story built upon the most fun and compelling features of the original Pirates! game

Live out multiple quests through a non-linear, open life timeline where every decision poses distinct challenges and possibilities

Witness the consequences of your actions in current events throughout the Pirates! world

Battle, overtake and command 27 different ship types, enhanced with assorted ammo, cannon and other upgrades

Take on various foes including merchant and military captains, ferocious pirates, evil gentry and even rival suitors -- each with different skills and abilities
GERMANY
SUBSIM STORE
Click here to search subsims

United Kingdom
European Amazon store - click here to search subsims

Your order supports Subsim.com
---
Subsim Battle Gear

Visit the full Battle Gear Catalog
---
Pacific Fighters

The award-winning flight combat from Oleg Maddox's IL-2 series moves the setting from the Eastern front to the fierce combat of the Pacific theater. Allied fighters and bombers square off against the notorious air power of the Japanese empire. For the first time, a large variety of British aircraft will be included along with U.S. and Australian planes. Target enemy ships, vehicles, airfields, and a host of AI-controlled aircraft. Re-enact some of the most famous air battles of WWII in places like Pearl Harbor, Guadalcanal, and Iwo Jima.

Game Features

Fly a variety of WWII fighters and bombers: Fly for the U.S., Japan, Great Britain, and Australia in famous fighters such as the F6F Hellcat, the deadly Japanese Zero, and the UK's Supermarine Seafire. Flyable bombers such as the Aichi D3A1 Val, G4M2 Betty, SBD Dauntless, and A-20 Havoc are also included. Over 40 flyable aircraft models are available.
---
Great Books!
MASTER AND COMMANDER


U.S. Submarines Through 1945: An Illustrated Design History

Buy through Subsim!

U.S. Submarines Since 1945: An Illustrated Design History

Subsim Special
---
Pirates of the Caribbean (FORMERLY SEA DOGS II)

Pirates of the Caribbean is the highly anticipated sequel to the award-winning pirate adventure role playing game Sea Dogs: An Epic Adventure at Sea. The player enters a world that captures the romance of the 17th century upon the Caribbean. The focus of this heroic game consists of steering mighty sailing ships and partaking in naval battles. Players captain their own ship and have the opportunity to live the life of a pirate by fighting tooth-and-nail for gold and experience. Adventuring choices range from captaining a squadron for one of the European powers, bloodthirsty pirating, peaceful and profitable merchant sailing or becoming a fearless bounty hunter.

Sea Dogs

Combining elements of role-playing, naval combat, and strategy, Sea Dogs provides a boundless, endless pirating experience. Set in the 17th century, players begin with a small ship, allegiance to the British, French, Spanish, or pirates, and some general guidance on what to do next. Location-specific ship damage allows players to send enemies' sails up in flames, bring their masts crashing to the deck, or shoot holes in their decks. Players can customize their ships with a variety of cannon and shot types to create devastating attacks. Wind and weather effects give advantages during combat and determine how ships sail in general.

Pirate game combining elements of role-playing, naval combat, and strategy
Nonlinear campaign allows player to choose their own course and fate
Give allegiances to British, French, Spanish, or pirates, then change sides during game
20 types of ships to choose from, from small corvettes to large battleships
More Popular Pirate games!
---
| | |
| --- | --- |
| Command Aces of the Deep | |
Doom Collector's Edition

Built on id's revolutionary new 3D technology, DOOM 3 is a terrifying battle with the forces of Hell. In DOOM 3, your recent assignment to the Union Aerospace Corporation's Mars research facility seemed simple enough, until their discoveries and experiments unlocked the gates to Hell itself. Now, in an epic clash against pure evil you must fight to understand who is with you, who is against you, and what must be done to stop this nightmare from reaching earth.
---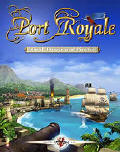 Port Royale

Port Royale is a unique combination of role-playing and strategy, as you command vast fleets and fight for power, during the height of piracy! The adventure takes place between the 16th & 17th centuries, in the real-world location of Port Royale. Your goal is to become the governor of this port town -- how you achieve that is up to you. Undertake missions of behalf of various seafaring nations -- work for Spain, Holland, England, and France as you capture or sink treasure-laden convoys throughout the Gulf Of Mexico Accept contracts to hunt down rival ships, and earn rank that you can use politically The higher your ranks, the more ships you can command -- command 100 ships in the greatest naval battles ever seen!
| | | |
| --- | --- | --- |
| Port Royale I | | Port Royale II |
---
Strategic Simulations Commander's Collection
The Strategic Simulations Commander's Collection includes Flanker 2.5, the simulation of the year 2002, Silent Hunter II, the most intense and realistic submarine simulation ever created, and IL-2 Sturmovik, the most award-winning WWII combat simulation ever.
Features :

Flanker 2.5: 3D graphics, featuring full texture-mapped terrain. Includes a variety of Russian aircraft, including the carrier-based SU-33. Missions editor for creating realistic theater of operations. Includes training modules with an in-cockpit instructor.
Silent Hunter II: Combat a wide array of enemy forces, including destroyers, armed merchant ships, and aircraft. An all-new U-boat perspective, featuring over 200 highly detailed 3D models. Ultra-realistic ocean environments. Scalable realism settings make the game accessible to players of all levels.
IL-2 Sturmovik: 31 flyable WWII aircraft - Russian and German. Engage in aerial dogfights (up to 32 players) or cooperative missions (up to 16 players). Join the Axis or Red Army forces and play fighter or bomber campaigns. Experience highly detailed aircraft and ground unit graphics.


SILENT HUNTER II - BATTLE OF THE ATLANTIC

Silent Hunter II, the latest simulation in the critically acclaimed SILENT HUNTER series, recreates the desperate battles in the Atlantic between Hitler's infamous U-boat force and British and American convoys - lifeblood of the Allied war effort. Building on a game widely regarded as the best of it's kind, SILENT HUNTER II represents the next generation in WWII submarine simulations. Its impressive list of features, beautiful 3D graphics and unrivaled game-play, assure that the SILENT HUNTER name will remain at the forefront of historical underwater simulations!

DESTROYER COMMAND

Experience for yourself the challenges of a career as a destroyer captain in DESTROYER COMMAND's historical campaigns. Fight the whole of World War II in either the Atlantic or Pacific theater. As you advance in rank you can take charge of a whole division or squadron of destroyers, or you can choose to finish the campaign commanding a single ship. Bombard shore targets, escort convoys, and hunt U-boats! Play multiplayer with Silent Hunter II.

Silent Hunter Commander's Edition - Silent Hunter lets you walk in the shoes of such famous American sub skippers as Dudley "Mushmouth" Morton, Richard O'Kane, Sam Dealey, Bud Gruner, Freddie Warder, and George Grider, to name only a scant few. You wear the skipper's cap and command an American submarine in search of ships of the Japanese Empire. Like the successful Aces of the Deep series, Silent Hunter takes the familiar elements of submarine warfare and brings you even closer to the experience
Silent Hunter I Expansion disk - comes with the Commander's Edition above or can be ordered separately.
---
System requirements

Microsoft Windows 98/Me/2000/XP
PIII 800Mhz
256MB RAM
GeForce2 32MB

ENIGMA: RISING TIDE
GOLD EDITION

ENIGMA: RISING TIDE is a groundbreaking concept melding cinematic pacing with immersive graphics to produce the worlds first alternate history, naval warfare, vehicular shooter game in an online, persistent, action-packed, 3-D setting.

Command a variety of surface ships and submarines. Sail with and against thousands of other players, deploying deck guns, torpedoes, hedgehogs, and depth charges. Communicate with your teammates in encrypted chat channels, evade deadly torpedo aircraft, and pluck salvage from the wreckage of enemy vessels. Pit your destroyer against enemy wolfpacks, or stalk fat merchantmen from the murky depths.

Right from the beginning, you'll find ENIGMA: RISING TIDE intuitive, easy to learn, and incredibly challenging. But when you join this world, we don't stop with the basic package. Every three months following release, you get free expansions to the game, including new vehicles, additional features, and dramatically enhanced gameplay.
Order here, mates, and get cheap, local shipping!!
And support Subsim here in the colonies!
---
STEEL TIDE

Take the helm of the R.M.S. Triumphant, the highly modified T-class submarine, armed to the teeth with devastating torpedoes, blistering anti-aircraft and a powerful deck gun. Skim the surface at periscope depth, dive deep to avoid depth charges, and emerge to do battle with shore gun emplacements and enemy ships. It's full, in-your-face, arcade-style battles as players quickly bring all their weapons to bear in fast-paced naval engagements. With its simple pick-up-and-play controls, outstanding 3D graphics and multiplayer capabilities, Steel Tide™ captures all the excitement of submarine warfare!

Game Features:

Deep-sea combat. Engage enemy ships, aircraft, and floating mines in arcade-style battles.
Maximum firepower. Fire high-speed torpedoes or blast away with deck guns and anti-aircraft weapons.
Sink or be sunk. Fight to survive in single-player missions and multiplayer battles.
---
OUR NEWEST MUG -- THE SUBSIM
DIRECT HIT BATTLE MUG
DESIGNED BY TORPLEXED


CLICK TO ORDER
---
BATTLEFIELD Series
Battlefield 2

Lock and load, soldier! There's a war going on and Battlefield 2 is going to drop you right into the middle of a 21st century shoot-out! The good news is that you have a team of grunts at your side to help you survive the frenzied close-quarters combat. The bad news is that you have to engage the enemy on their home turf, at the world's most dangerous hot spots. You'll need to unleash the fury of an awesome high-tech arsenal that includes laser-guided bombs, heat-seeking missiles, and much more in order to survive. You have all the tools you need to get the job done--Abrams tanks, F-15 Strike Eagles, Wasp Class assault carriers, you name it. Hit the enemy with everything you've got. This is no minor skirmish--this is all-out war with all the high-tech firepower you can muster.

Battlefield Special Forces

Special Forces, Special Weapons, Special Vehicles, Special Missions... Become an elite soldier or insurgent in the secret war for control of the modern world's most strategic locations. Fight intense online battles using the latest weaponry on land, in the air, and at sea. Battlefield 2 Special Forces takes the intensity and quality of Battlefield 2 behind the scenes of news headlines, showcasing the most elite and deadly forces in the modern military world. Using accurate Special Forces weapons, gadgets, and vehicles, these covert armies battle to control key military and strategic locations.

Battlefield 2
Platform: Xbox

Battlefield: Modern Combat features large and detailed environments, from city streets to remote jungles, in some of the globe's most recognized hot spots to engage in battles which could be ripped straight from tomorrow's headlines. If you're going to come out of the firefight in one piece, you'll have to use all the high-powered tools at your disposal...assault rifles, guided missiles, air strikes, and state-of-the-art military vehicles. Head online and unleash the full fury of your modern arsenal. This is no minor skirmish...this is all-out war.

BATTLEFIELD VIETNAM - REDUX

The 1960's were not all about love and peace and Battlefield Vietnam will be no different. Fighting in theatres from jungles surrounding the Ho Chi Minh Trail to the city streets of Hue, players will choose from two well-equipped forces, the United States or North Vietnamese Army (NVA), and take to the battlefield. To provide players a greater connection to their soldier, players now have the opportunity to select from a variety of soldier character models. The Vietnam War offered powerful new weaponry and players will have the ability to control a variety of authentic U.S. and NVA vehicles. The workhorse for the U.S. during the Vietnam conflict was the helicopter and it will serve the same purpose in Battlefield Vietnam. Some of the combat vehicles straight from the conflict include the UH-1 Huey helicopter, M551 Sheridan tank, Phantom F-4 jet fighter and CH-47 Chinook transport helicopter and for the NVA the Russian-made T-54 tank, MIG-21, and Mi-8 multipurpose helicopter.

Battlefield 1942

The ultimate standard in online wargames!! In Battlefield 1942, you will experience the heat of battle as you heroically storm the beaches of Normandy, drive a tank across the deserts of northern Africa, pilot a fighter plane during the Battle of Midway, command a battleship at Guadalcanal, or parachute and commandeer a jeep in operation Market Garden. It is the only first person, team-based action game that places you in the midst of a raging WWII battle with 35 "machines of war" for you to control. You'll get behind the wheel of a variety of vehicles, ships and aircraft to fight the war on land, sea, and air during some of the most famous and pivotal battles of the Second World War.
---
Shop for Subsim Classics:

Grey Wolf, Fast Attack, and other older subsims on Amazon.
Many copies of Fast Attack, Great Naval Battles, Grey Wolf, Wolfpack, Das Boot, Silent Service, & many, many other sub and naval games sold here, really cheap!

Subsim Classics

Thanks for ordering through Subsim Review!
---
---
Ultimate Wargame Collection 2

Luftwaffe Commander: the definitive WWII air-combat experience
Fighting Steel: return to the days of the BIG guns
Silent Hunter, Commander's Edition: the definitive submarine combat experience
Panzer Commander: this WWII tank simulator has it all

Fighting Steel re-creates the most spectacular naval gunnery battles of WWII from 1939 to 1942. Command ships or several divisions from the British, German, American and Japanese fleets in real-time action! Combat takes place in a true 3-D world. All ships are fully rendered and textured 3-D models, providing a high level of detail and extreme realism.

Features :

Incredible 3D rendered ships that move and fight in real-time.
9 different paint schemes are available for every ship including realistic camouflage patterns.
Realistic 3D visibility effects that include smoke screens, reduced visibility (due to rain or bad weather), recognition lights, starshells and searchlights.
Realistic 3D explosions, fires and battle damage to ships.
Dynamic and encompassing 3D sound effects.
Dramatic nighttime engagements.
Vast library of over 1000 ships in 90 unique ship classes from the British, German, American and Japanese navies of 1939-1942.

System Requirements :
Hard drive, 4X CD-ROM drive and mouse. Pentium 200. 64 MB of RAM or greater. 3D accelerator card with 4 MB RAM
---
Age of Sail games
Age of Sail and Age of Sail II are popular naval strategy games from Talonsoft. The action take place in tall ships golden years 1775-1812. Player will have possibility to play English-French and English-American campaigns and more than 100 standalone scenarios of most famous battles: Copenhagen, the Battle of the Nile, Trafalgar, etc. Working on the game, developers examined huge amount of historical materials - the complete information about more than 2,000 historical ships from 11 countries, detailed reconstruction of famous battles, old drawing used to create 3D models of ships and fortifications.
---
Guys who like subsim action have recommended the following as good reading:
---