So I've been playing this indie game on and off for years now, and thought I'd share it with you guys, since some of you seem to be into fairly complex strategy games.
Dom3, the brainchild of two industrious game designers in Sweden, is a turn-based strategy game where you build armies and fortresses, cast spells, and spread your religion (or dominion) across the world. The idea is that each nation is led by a powerful being called a "pretender god", and that when only one of these false gods remain, he or she or it will rise to true godhood. When creating a game, you pick a nation and a character for your pretender god. Every nation has a multitude of beings to choose from, ranging from mages to dragons and giant haunted obelisks. You then pick the magic skills for this pretender, and the traits of your nation, such as heat/cold, productivity/sloth, growth/death, and magic/drain. These traits will spread with your dominion, so if your capital is cold, and your priests convert other provinces to you, their temperature will fall over time. In addition, certain nations have special abilities related to their dominion. For example, Arcesophale's Scry ability allows them to see through the fog of war in enemy provinces with friendly dominion.
Dominions 3 draws heavily from all flavours of mythology, legends, and popular culture, and covers everything from Norse gods to Japanese samurai culture and Lovecraftian horror stories.
The game seems simple on the surface in that there's only three kinds of buildings to build (Fortifications, Labs and Temples) and there's very little economy/city management, but once you start playing, you discover that there's a whole lot of content to explore. The game clocks in at a grand total of 50 nations (distributed among the three eras), 600 spells, 300 magic items, and over one and a half thousand different men, monsters and machines of all kinds of varieties, everything from longbowmen and priests through dragons and trolls to truly exotic entities such as haunted obelisks and R'lyeh's starspawn.
Where does this leave us? It leaves us with a game where you can truly do "anything". Dominions 3 at its heart is unpredictable, with every game playing out differently. The creative variety of spells, the heart of the mid- and late-game, do all kinds of things from letting mages throw fireballs to making the entire world go dark. As other players field different strategies, you will have to form your own short-and long-term plans to counter them. For example, I could pick Niefelheim as my nation and decide to make my pretender a sage who's good at researching and able to cast powerful spells, for then to form my strategy around researching and casting powerful global enchantments. Or I could make my pretender a dragon and rapidly expand with him leading my troops to victory, with mages back at home researching combat spells for my frontline troops to cast at enemy armies.
Mid-game expansion, taking over the world as the giants of Niefelheim.
There are very few "hero" units as such in Dominions 3 - most of the troops you get your hands on are fairly green when recruited. The "hero" status has to be earned, by gaining experience and killing enemies. Once your champion has risen to be one of the greatest commanders in the world, he (or she, or it) will enter a "hall of fame", and acquire a stats-buffing character trait.

In most games, a wealth of nations and units means that you end up with shallow, generic entities to play with. Not so in Dom3. Every nation has a distinct unit pool, and in addition there's a horde of different units such as mercenaries, independent armies, summons, and so on. Many of the different units in the game have special abilities which make them even more diverse. For example, the Navigator has the "Sailing" ability, which allows him to sail from one land province to another across a single water province with the troops under his command.
"I am become Death, the Destroyer of Worlds".
Note all the different stats - Dom3 has a deep combat system. Also worth taking into consideration is that different weapons have different qualities - for example, some weapons are good against units with shields.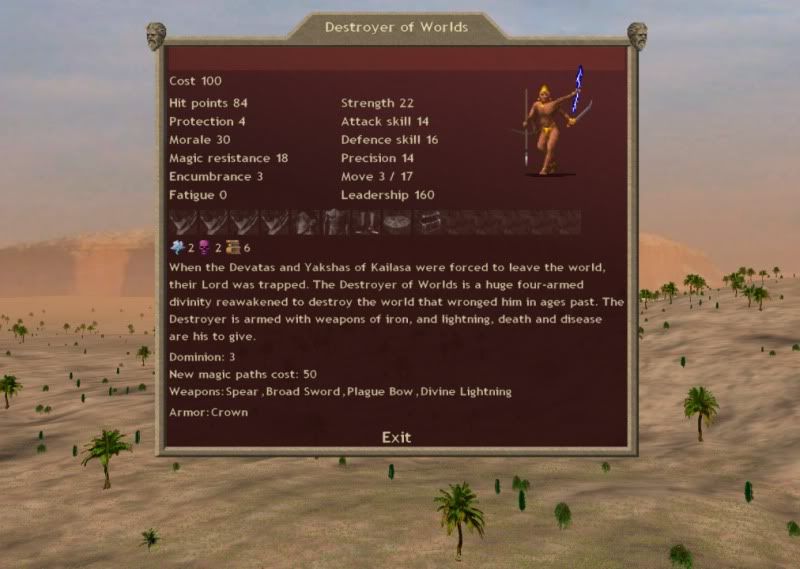 F'thagn.
A fire elemental, with a wealth of special qualities.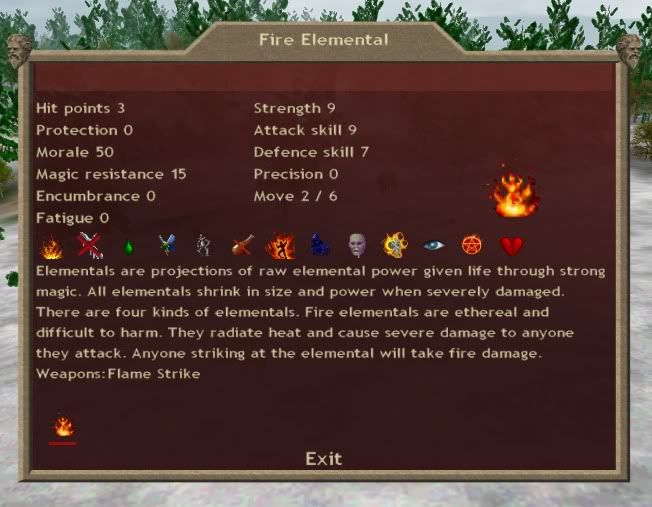 One of the Global Enchantments you can cast in the game. Global Enchantments are special spells that affect the entire world, and often drastically change gameplay. Up to five can be in play at any one time, and they can be hard to dispel.
A small selection of the magic items the game has to offer.
The unit pool of the Chinese T'ien-Chi empire.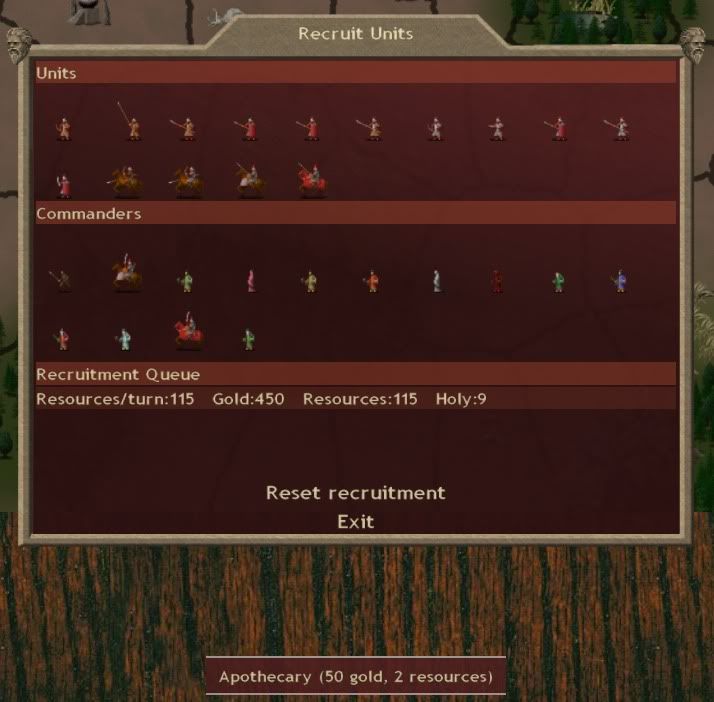 Units are assigned squads, positioned on the battlefield, and given orders during the player's turn, and combat is automatically resolved using a turn-based system by the computer during turn generation (if you've played games like Stars!, this system should be familiar to you). The depth of the game means that keen tactical planning easily can turn the tide of battles. Should the cavalry in this army be used as a spearhead, or should they try to flank the enemy to try to hit vulnerable commanders and mages behind the advancing enemy army? How should the archers be positioned to minimize losses from friendly fire? Is there a better way to distribute my meele units? The answers depend on what kind of game you're playing, how many losses you can afford to take, and most importantly, what kind of army you're up against.
Wow. That's a lot of complexity. You would hope it ships with extensive documentation.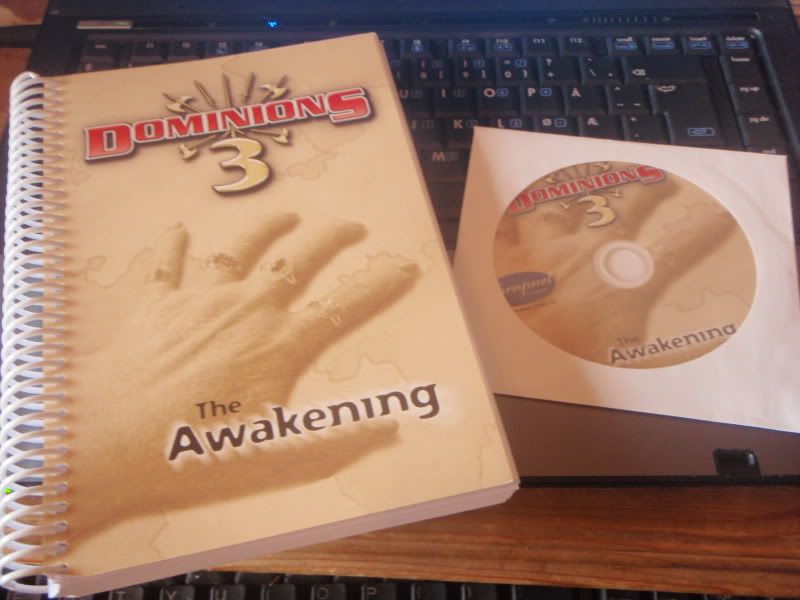 Why, you're in luck. It does

.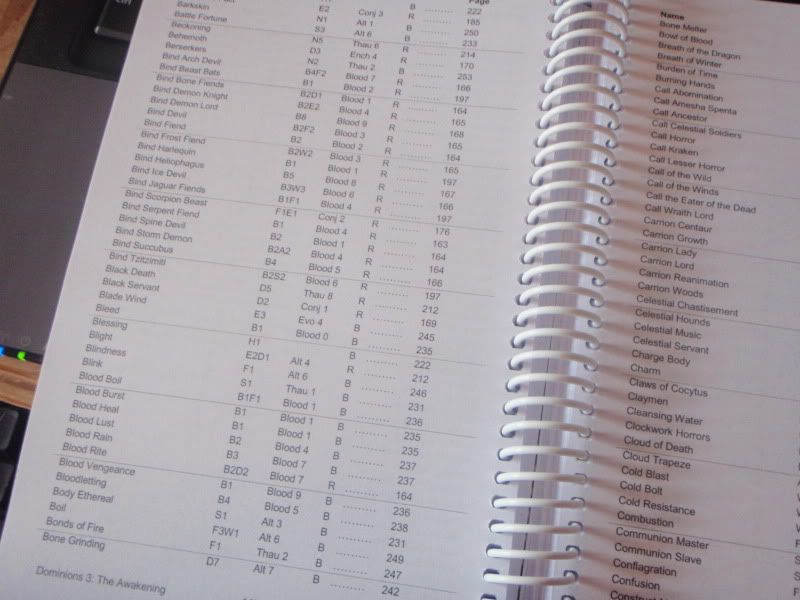 This 300 pages beast exhaustively covers the tutorial, all gameplay mechanics, the civs, spells and items, and general strategy. It also has a huge index that you can use to look up, well, pretty much anything.
I've been playing the Dominions series on and off for years and still haven't gotten tired of it. It seems that no matter how long you play, there's always new stuff to discover, and new strategies to master, especially if you keep trying out new nations and pretenders instead of "specializing" with one nation/pretender combo. Some balance issues aside, the game really shines in multiplayer, where human creativity allows for some really crafty strategies.